The Mission: Evaluate a pilot program to introduce mobile technology into an Indonesian tuna fishery.
---
 Background
The Indonesian field site, off the island of Lombok, is a resource-rich, but data-poor fishery. The lack of fish catch data makes it difficult to assess how well this highly valued fishery is being managed. Fishers also face a number of challenges: their current technology usage is minimal, much of the workforce is seasonal and comes from different islands/languages/cultures, and the limited financial resources of the fishers leaves them contractually bound to one of two local buyers/distributors, creating complex patterns of debt and obligation.
Our Approach
As part of the public-private mFish program, Practica partnered with Future of Fish, systems change incubators with a design thinking sensibility, 50in10, an organization that supports whole systems approaches to fishing sustainability and MDPI, a local fishery NGO with deep ties to the region.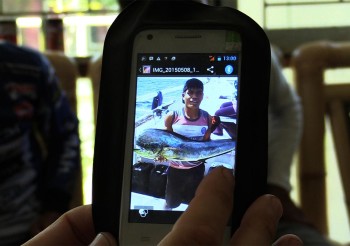 We used a mixed methodology of ethnographic interviews and participant observation: in-home, in-port and on-water as well as video and photographic documentation. In addition to this holistic approach to understanding the local supply chain and community, we also evaluated three different types of mobile technologies that fell on a passive-to-active data collection spectrum.

Brief
Evaluate an mFish Alpha Pilot in terms of needs, opportunity areas, and pain points in the service of developing a protocol of best practices for a larger scale roll-out.
What we discovered
Combining on-water participant observation, with in-depth ethnographic interviews, we identified a number of opportunity areas for technological interventions. These opportunities included both the data collection needs of NGOs and government resource managers as well as fisher needs for greater safety, communication, and improved predictive tools to help in their decision-making.
Meanwhile, our holistic approach of talking to players at all levels of the local supply chain and across the local community highlighted the importance of both social and business relationships and the ways in which these boundaries were often blurred. We drew from both the things we heard and observed in the field and from our own knowledge of the rich anthropological literature on reciprocity, exchange, and the importance of gift economies in the Pacific. This collectively provided a range of insights to fuel exploration of new frameworks through which to imagine incentive structures as well as allowing us to identify potential barriers to technology uptake. Understanding how innovative disruptions may sit within the values and practices of a specific local cultural context can significantly impact chances for successful uptake and has implications both for local players and for more distant ones, including NGOs and tech companies.
While there are certainly variables that were unique to this fishery, we also identified a range of transferrable learnings about fishing supply chain typologies that have wide-ranging applicability.
Visit the Future of Fish's mFish webpage for links to the full report, as well as the executive summary.