Our Goal: A framework for product innovation.
Our Approach: How does work really get done?
---
background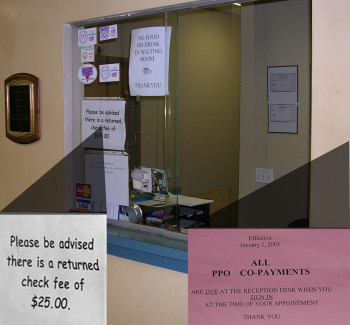 As an iconic leader of best practices, the AMA was looking to add value for the organization's members by helping physicians navigate increasingly complex technological and financial pressures that were impacting their practices. It wanted to develop a web portal that would allow stressed small-to-mid-size primary care practices to do all of their "work" (e.g., managing electronic medical records, interfacing electronically with multiple insurance entities, collecting and tracking practice revenue) on one integrated, easy to use platform that would not require physicians and staff to have to learn multiple software packages or have to pay for frequent updates or tech help.
brief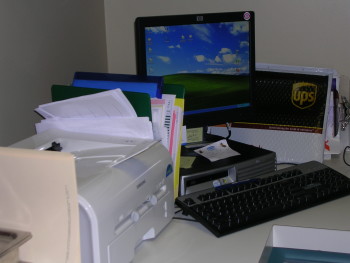 While the AMA is composed of physicians, we wanted to explore the entire practice setting, especially aspects of material culture (the "stuff" of the office) that would give clues as to how the whole staff (and not just the physicians) incorporated technology in managing the practice.
what we discovered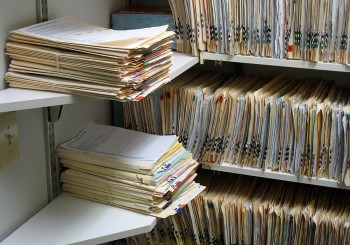 By spending time in offices, observing practices, talking to everyone, we tracked the paths of enormous amounts of paper and files and discovered how sticky notes constituted a database management system. We learned about fears of data storage, and why a practice might use a very unsecured shed to store old patient files. We realized quickly that office personnel had different and often competing ideas of their unmet technological needs and what would help.
We learned to look for cues to the financial workings of the practice. And we learned that asking about mundane practices gave answers to questions the physicians would never have answered directly. We also challenged assumptions about how physicians actually worked and the ability of staff to adapt technology to their specific needs.
In the end, we identified significant cultural barriers to the AMA's product idea and designed a way forward based on actual routines in the practice. We outlined opportunities for new product offerings based on the needs of non-physician staff and provided direction for positioning new offerings to those who would have final word on whether or not a product "fit" into a practice setting.